Easykleen Tec Brush 60A
It is effective in passivation and therefore improving corrosion resistance of surfaces.
It removes rouge, rust and stains from surfaces.
It does not scratch or etch but it does polish, the polish is controlled by user.
It dissolves the particles that the inclusions cling to therefore removing the particles.
It microscopically smooth the surface giving the best possible finish.
It removes weld scale and decolouration.
80% duty cycle
The versatility of the carbon fiber master brush allows Easykleen Tec Brush to clean TIG welds.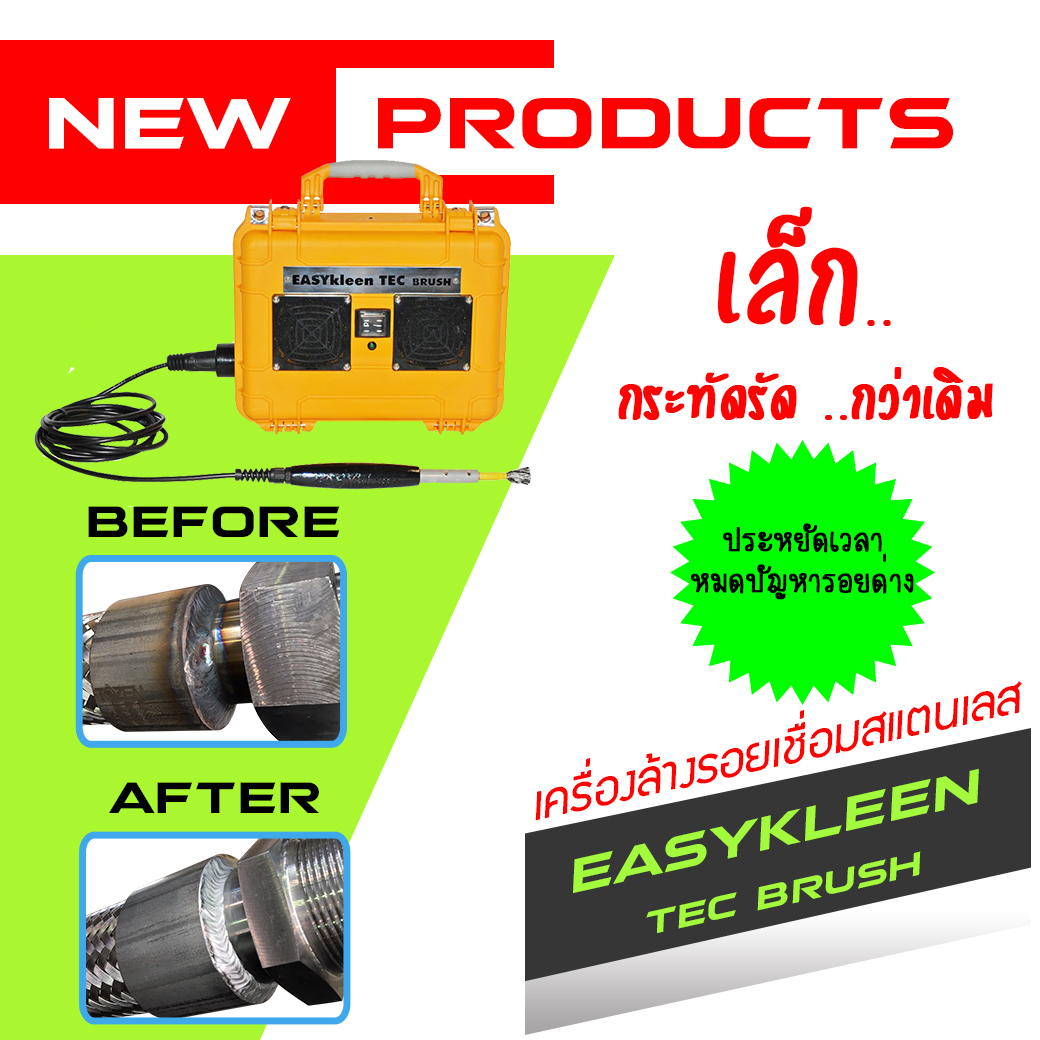 ลบรอยเชื่อม, น้ำยาล้างรอยเชื่อม, EASYKLEEN, ลบรอยเชื่อมสแตนเล, เครื่องล้างสแตนเลส, เครื่องล้างรอยเชื่อม


SPECIFICATION

หน่วย

EKT101

คุณสมบัติทางเทคนิค

INPUT VOLTAGE

แรงดันไฟฟ้าที่ใช้

V

220

OUTPUT CURRENT

กระแสไฟที่ใช้

A

20-60

DUTY CYCLE

วัฏจักรการทำงาน

%

100

DIAMENTION

ขนาด (กXยXส)

mm.

300X260X130

WEIGHT

น้ำหนัก

KG.

5
| | | | |
| --- | --- | --- | --- |
| EKT101 | เครื่องล้างรอยเชื่อมสแตนเลส EASYKLEEN TEC BRUSH | | |
| รหัสสินค้า | ชื่อสินค้า | จำนวน | หน่วย |
| TC102 | WELD CLEANNING SOLUTION / 1 LTR. | 1 | LTR. |
| EKT105 | SPOT BRUSH & SLEEVE (YELLOW) | 1 | EA. |
| EKT140 | TIP BRUSH (YELLOW) | 1 | EA. |
| EKT109 | SPOT SLEEVE | 1 | EA. |
| EKT110 | BRUSH LEAD (ALL BLACK) 3 M.& HANDLE | 1 | EA. |
| EKT112 | GROUND CLAMP & LEAD 3 M. | 1 | EA. |
| EKT106 | MASTER BRUSH (GREEN) | 1 | EA. |
---
---