KS2P-18C210-AO :Evaporative air cool mobile type (Airflow 18,000 m3/hr)
The new innovative of cooling system without spray.
Evaporative Air Cooler (mobile type), easy to move and use, no requires for installation. Just plug in and ready to use. Control by remote control, cooling pad made from high quality cellulose , efficient in cooling and refreshingly natural, eco-friendly. Reduce the temperature to 4-8 degrees Celsius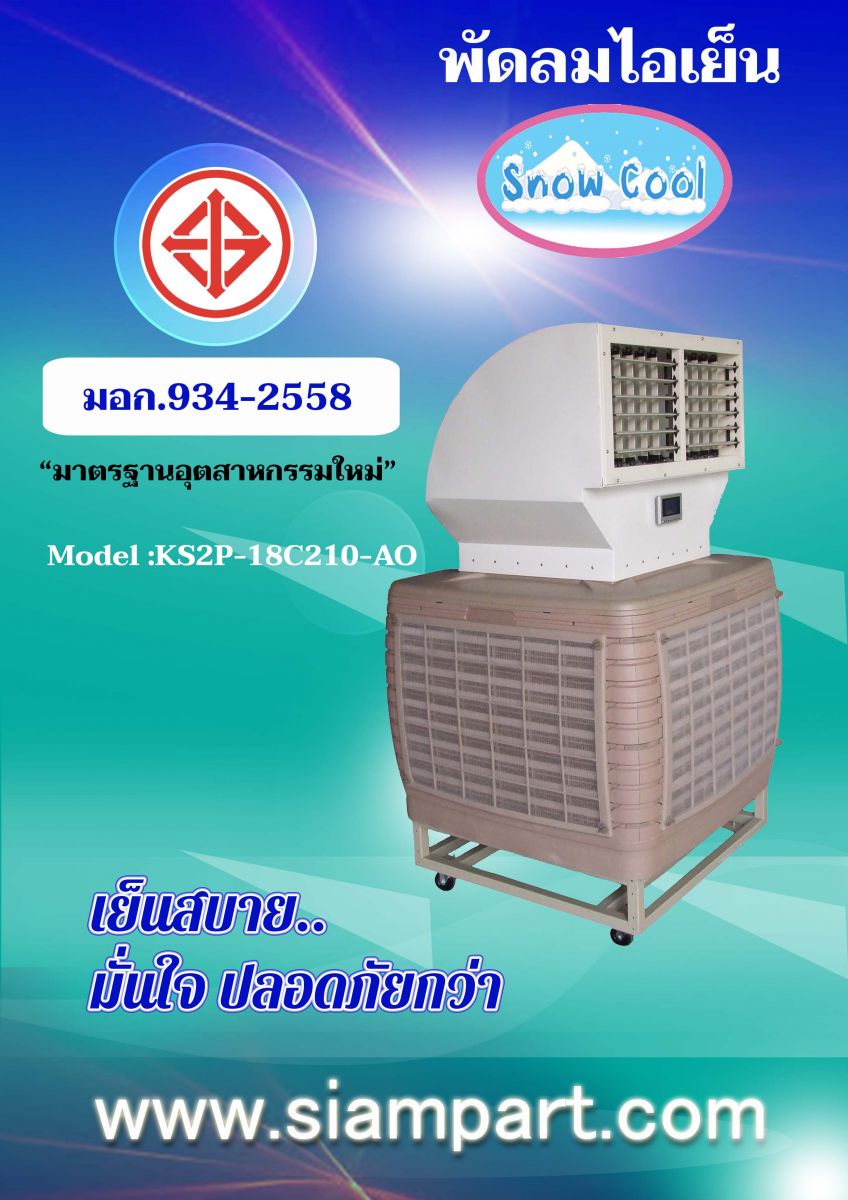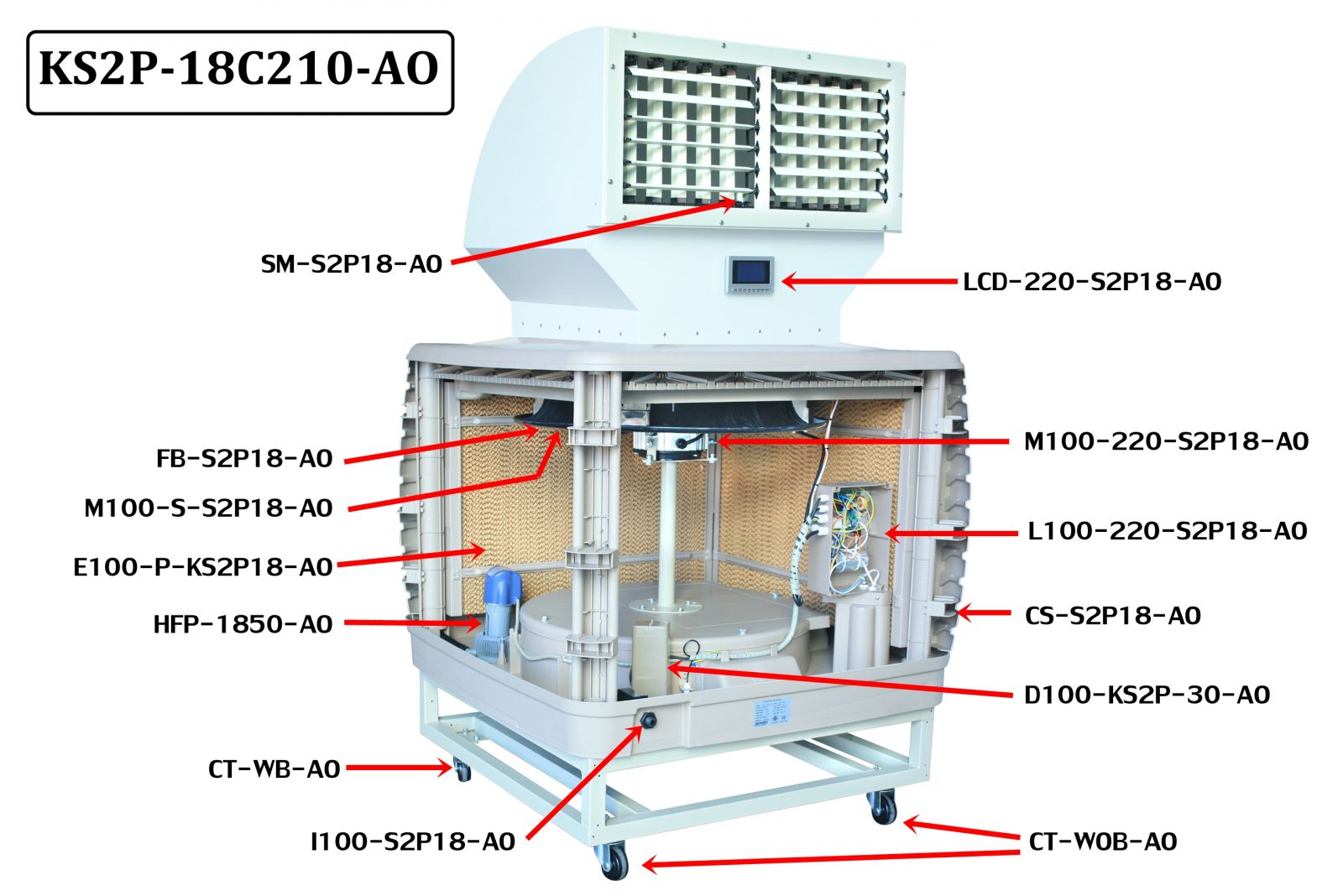 พัดลมไอเย็น, EVAPORATIVE COOLING SYSTEM, พัดลมไอเย็นรุ่นโมบายด์, SNOW COOL, พัดลมไอเย็นโรงงาน, พัดลมอุตสา


reamline design,durable and beautiful appearance.
Swirl designed outlet, easy to let off sewage.
With intergrate and special triangle water distribution structure, makes the water distribute evenly.
With concealed design, the water will not enter into cooler when the pipe is accidentally detached or broken.
With a damper to prevent warm air leakage in winter.
With an outside dust screen which can be easily removeed and cleaned.
Using intelligent LCD control,which is easy to operate and understand.
The casing is made of high strength weather ability polymers which is UV-proof, anti-corrosion, anti-aging and resistance to deformation.
Using specially-designed axial fan, with large airflow, low niose, energy-saving and large application.
Using high quality aluminium housing motor, with good heat dissipation, high protection grade, waterproof and moistureproof.
Using highly efficient cooling pads with large evaporation capacity, good cooling efficiency and easy to clean.
อัตราความเร็วลม

Airflow (m3/h)

18,000

แรงดันลม

Pressure (Pa)

190

อัตราการใช้ไฟฟ้า

Power (kw)

1.1

แรงดันไฟฟ้าที่ใช้

Power Resource (V/Hz)

220/50

กระแสไฟฟ้าที่ใช้

Rated currency (A)

5.6

ประเภทใบพัด

Fan Type

Axial

ขนาดช่องลม

Vent Size (L x W x H) (mm)

900 x 400

ระดับความเร็ว
Fan Speed

10 speed

ระดับความดังของลม

Noise (dBA)

≤ 76

ขนาดเครื่อง

Dimension (L x W x H) (mm)

1,170 x 1,170 x 1,950

ขนาดของแผง

Cooling Pad size(L x W x H) (mm)

675 x 860 x 100

น้ำหนักสุทธิ

Net Weight (±3kg)

95

น้ำหนักเครื่อง

Operation Weight (kg)

135

ความจุน้ำ(ลิตร)

Water Capacity (L)

30

อัตราการสิ้นเปลืองน้ำ

Water consumption ( L/hr )

15-20L/hr

ครอบคลุมพื้นที่ ( ตรม.)

Application Area (m2)

100-150

ระบบทำความสะอาดอัจฉริยะ

Intelligent Clean

√

ระบบป้องกันน้ำแห้ง

Water Lack Protection

√

ระบบควบคุม

Controller

LCD
---
---